We created this mess, and we better fix it!
Denmark cannot solve the climate problem alone, but we have the right conditions to take the lead in the green transition that needs to happen all over the world and needs to happen fast. The solutions that could effectively mitigate climate changes were discussed by policy makers, researchers, and industry at the Danish People's Meeting (Folkemødet).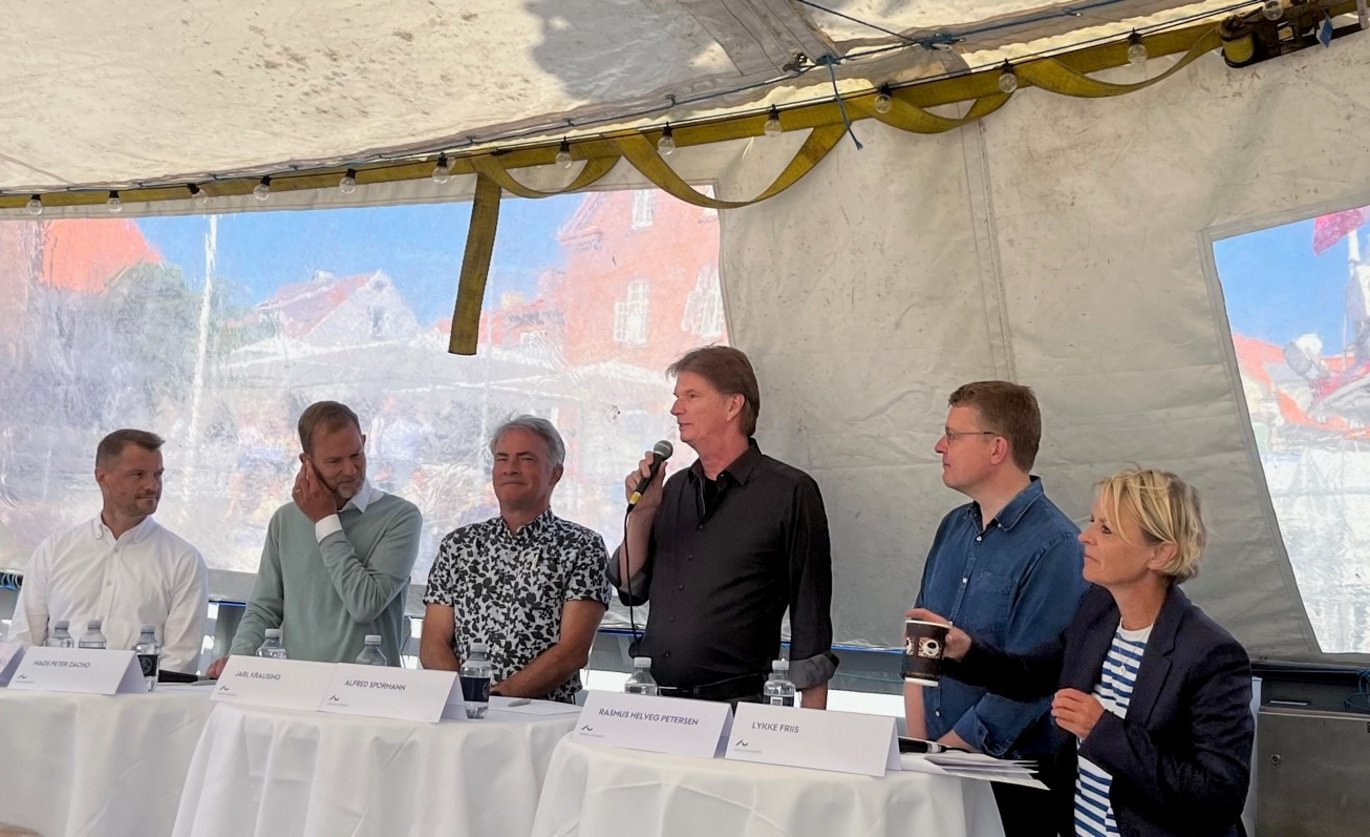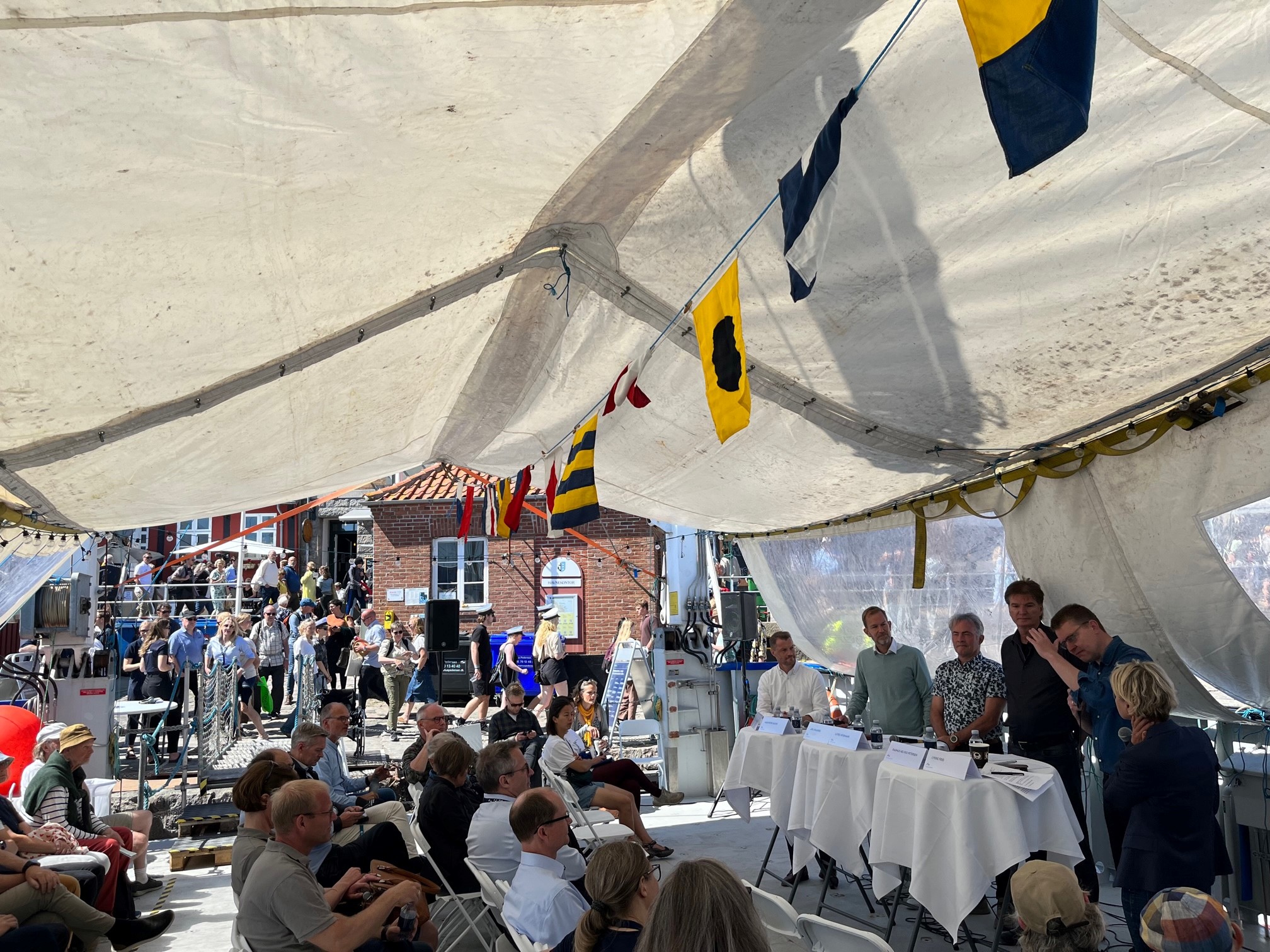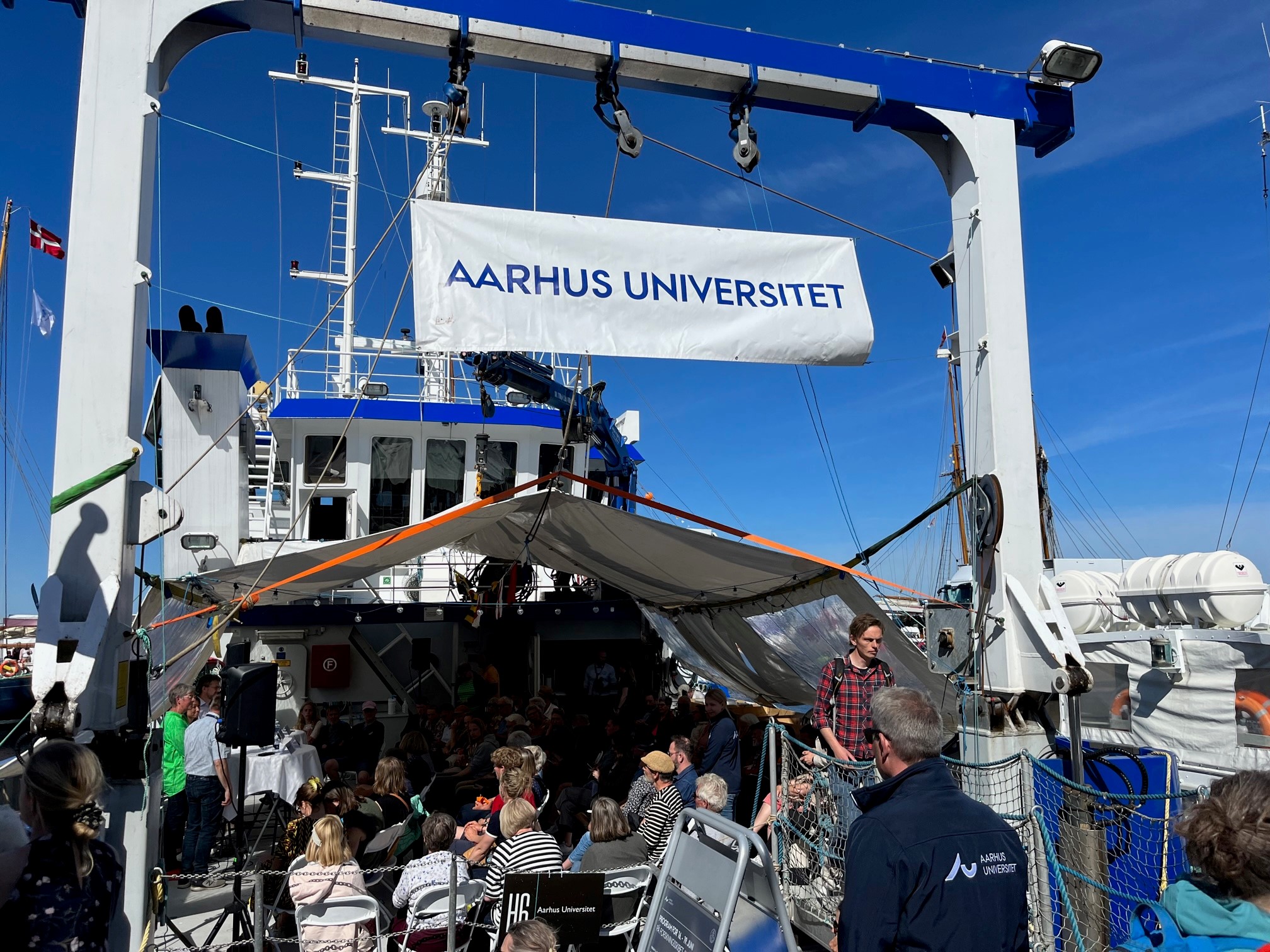 Moderator of the debate, Lykke Friis, former Danish Minister of Climate and director of Think Tank EUROPA navigated the five panellists around the ambitious question "What does it take to mitigate climate change?" which led to a lively and fruitful debate about the solutions to climate change.
The debate was hosted by the Novo Nordisk Foundation CO2 Research Center, based at Aarhus University. The centre opened in January 2022 and has been awarded a grant of 630 million DKK (84.7 million EUR) for a seven-year project from the Novo Nordisk Foundation, with the mission to develop novel innovative ideas and early technology platforms to solve the greenhouse gas-based climate crisis.
Lykke Friis opened the debate by quoting Pippi Longstocking (Pippi Langstrømpe): "I have never tried that before, so I think I should definitely be able to do that!", referring to the new Novo Nordisk Foundation CO2 Research Center taking on the massive challenge of doing something that has never been done before: taking fundamentally new approaches to carbon capture and conversion by bringing together chemistry and life science. The interface between these disciplines has the potential for new, game-changing breakthroughs.
"We want to take a completely different approach at the interface between chemistry and life science to make new and more efficient technologies than the ones that exist today. The advantage of chemistry is that it works well at high rates and on scale, while biology is good at high selectivity without high pressures and temperatures. If we can put these disciplines together, the potential for making cheap and effective technologies is enormous!" explains Executive Director and Professor Alfred Spormann from the Novo Nordisk Foundation CO2 Research Center.
The panel for this Folkemøde debate consisted of carbon capture experts and policymakers within the field of climate policy:
Jarl Krausing, International Director of CONCITO, Denmark's green think tank
Klaus Skaalum Lassen, Head of carbon capture and storage at Novozymes
Rasmus Helveg Petersen, Member of parliament for Radikale Venstre and Chairman of the Council for Climate, Energy and Utilities
Mads Peter Zacho, Head of industry transition at Maersk Mc-Kinney Møller Center for Zero Carbon Shipping
Alfred Spormann, Professor and Executive Director of the Novo Nordisk Foundation CO2 Research Center
Is carbon capture cheating?
To avoid a climate disaster in a not-so-distant future, we need to decarbonise the energy, transportation, agriculture and building sectors rapidly and effectively. However, the volume of excess carbon in the atmosphere is now colossal, and a method to solve this is by capturing a lot of carbon with the purpose to either store it as inactive carbon or convert it into useful substitutes for fossil-based products such as plastic or fuels.
Sometimes, carbon capture has been seen as a controversial method to combat climate change – and even seen as cheating, because it would incentivise the continuing use of fossil carbon. But is it really? According to Jarl Krausing, International Director of the Danish climate think tank CONCITO, it is complicated:
"We need to decarbonise society by reducing emissions as the first step. But pulling CO2 out of the atmosphere is necessary to get us to the other side of net zero in a timely manner; particularly in industries where this makes sense, such as in the cement industry, bioenergy and waste incineration," he says.
Rasmus Helveg Petersen, member of parliament for Radikale Venstre, confirms that carbon capture is a necessary technology for solving the climate problem and underlines that legislation for carbon capture and storage to take place in Denmark is now in place.
"Carbon capture is now completely uncontroversial and definitely the way forward. To quote Churchill: 'We are now at the end of the beginning'! We are scaling up to face the challenge, and in these very weeks, we make firm political decisions on wind power in the North Sea for massive amounts of green energy. The same scale is to be expected in the fossil economy, and the next business opportunity to be developed, after wind energy, is carbon. We have now opened the framework for storing carbon underground. It will be expensive to begin with, but we will get there. A massive amount of money is set aside for this.", he says.
But the problem is not solved just by allocating funds. There is also a need for a clear political direction from the Government:
"We need clear framework conditions that the industry can work with, and the Government needs to be much more ambitious in signalling what it wants, and in which direction we should go with CCS. The price of carbon also needs to go up, to get the economic incentives in place for industries to invest in CCS," explains Jarl Krausing.
The need for these incentives is confirmed by the industry:
"Carbon capture is a key component for producing new fuels for hard-to-abate sectors such as shipping. We see carbon capture from point sources to be used for methanol fuel as a large part of the future fuel mix for shipping," says Mads Peter Zacho, Head of industry transition at the Maersk Mc-Kinney Møller Center for Zero Carbon Shipping.
"We need to do this type of CCS now as we have a leak, and we need to stop it! But it's still expensive and we need to look to research to find even more inexpensive ways to capture and store carbon," adds Klaus Skaalum Lassen, Head of carbon capture and storage at Novozymes.
Need for new technologies
The existing technologies for carbon capture and storage, which are in focus globally, are traditionally based on making liquid CO2 and storing this underground. However, these technologies are still underdeveloped, very expensive and unproven, and this new centre, CORC, has the mission of developing new technologies to capture and convert CO2.
"These existing CCS-methods are expensive, energy-consuming and non-optimized. The processes are based on technology that was invented 70 to 80 years ago and were not developed for today's needs. But it's what we've got for now, although we know that it's not sustainable. In the meantime, we must do fundamental research, taking a whole new approach on how to capture carbon, away from traditional amine chemistry to develop novel technologies for carbon capture and reuse. This is what we are doing at CORC," says Alfred Spormann.
CCS, however, is not just liquid CO2 stored underground. Innovative carbon capture technologies are already on their way, for instance by Novozymes.
"Amine-based carbon capture is not the only solution. Novozymes are launching a new way of capturing carbon: enzymatic carbon capture. We replace the chemicals traditionally used for post-combustion carbon capture with biological enzymes and carbonate, that can make the process non-toxic, more affordable and sustainable," Klaus Skaalum Lassen explains.
This news makes Rasmus Helveg Petersen feeling optimistic:
"Once in a while, we see these new technological possibilities. And what makes me optimistic is that we find new solutions and that we have such committed people. And I'm very impressed with the scale of it!" he says – attending the debate on his birthday which resulted in an impro birthday song by his co-panellists and the audience!
Why in Denmark?
Denmark could seem like a small and rather insignificant country for a centre with such a crucial mission. But not to Alfred Spormann.
"Denmark as a country is a leader in the green transition. Denmark has been working for better agriculture and greener air and that has come together collectively as a fertile ground for the whole green transition. The attitude and willingness towards CCS are there."
However, Denmark cannot solve the global CO2 problem. But according to the professor, it can make a substantial contribution.
"With the right carbon tax, the right technology and the right societal attitude, Denmark can build a carbon neutral society that will percolate through Europe and then ultimately also to a market-driven place such as the US," he says.
This is a potentially big business model for Denmark. The panellists agree that Europe and the western world has a responsibility to solve the problem they created.
"I think it is fair that we pay for the cost of solving the problem. We created the leak. To give an example: We should make sure that the price for fossil fuel rises, which will get the production of green fuels going," says Mads Peter Zacho.
"We're facing a great challenge in Denmark, and it's scary, but we can also achieve a lot. But saving Denmark doesn't save the rest of the world. For instance, China has so far modest ambitions to do carbon capture, and still uses coal-fired power plants. There's a responsibility for Europe to drive change in developing countries. We will not get to the finish line without China and India," Klaus Skaalum Lassen concludes.
Jarl Krausing adds: "Danish solutions are not enough; we have to discuss climate solutions in a European context. First, we need to electrify Denmark, the energy islands serve that purpose, and we need much more wind power over time to fulfil the expectations for producing electro-fuels."
Rasmus Helveg Petersen is adamant that Denmark must live up to this, as the country wants to be in the centre of the green transition:
"I think it's already happening; we are setting ambitious targets for CCS and for lowering CO2 emissions. We're going to do this by 2030 on a great scale, we're going to go crazy on wind turbines!" he exclaims and adds: "The Danish political strategy is to make the green transition profitable. It may sound cynical, but it makes sense. If the green transition is going to happen, we must make it profitable."
Ideation process
To make this transition happen and knowing that the climate problem cannot be solved by science only, but also by involving stakeholders, policymakers and industry, it takes a long time to get new technologies growing. That is why CORC has developed an ideation concept that calls for dialogues with industries, policymakers, and other stakeholders early in the technology development process. This will be done to assess which ideas in principle are scalable for rapid translation for industry to scale.
"What we learned is that we need policymakers, industry and other stakeholders to be involved early on to develop new technologies. Policymakers need to know what is coming, and whether there's a political will to back up a given technology. Also, we need companies to be part of the discussion and to assess if a solution shows potential for scale," Alfred Spormann elaborates.
Staying in the maritime lingo, as the debate took place on Aarhus University's research vessel AURORA, Rasmus Helveg Petersen adds: "I completely acknowledge the necessity of this centre, and we're ready to sail in convoy with you. You're most welcome!"
We are all part of the solution
There will not be a single simple solution that will save the planet and although there is great will, this is a complex problem that calls for many different solutions. All countries must play their part based on their abilities and conditions. The same is true for all of us.
"Individual contribution is like inversing the problem, and we need to look at that. Maybe it's at the home of all individuals we need to capture CO2? Just like we dispose of our compost as individual contributions, we could capture the CO2 we produce. We all play an important role, and we need to make painful decisions regarding our lifestyle and CO2 budget. It will be expensive and uncomfortable, but it is needed," Alfred Spormann says.
"Another solution to focus on is energy efficiency. The energy we don't use is saved energy, and the potential of energy saving is huge. And I entirely agree that there is no easy and simple solution – it's an all-hands-on-deck solution that is needed," Jarl Krausing concludes.
"The most important thing is rapid decarbonization. In the end it's simple: the faster and more aggressively we decarbonize now, the less CO2 needs capturing in the future. The faster we do it now, the better and cheaper it will be in the long run, and for our children," ends Alfred Spormann.